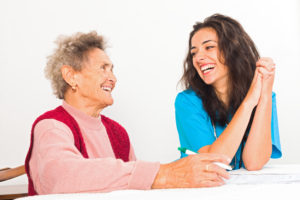 If you or your loved one has on-going medical needs that cannot effectively be provided by caregivers or family, home health care may be a viable solution.
Home health care is inclusive to a wide range of services and supportive care provided at home by trained and licensed professionals under the continuing supervision of your physician. There are proven data that show home health is less costly, more convenient and safer than being in a skilled nursing facility or hospital. Many former home health patients feel they recovered faster surrounded by their family and friends at home.
Home health care may be short term, teaching and helping you to regain self-sufficiency after an illness, injury or surgical procedure. In cases where longer term home health care is required, the goal is to help you maintain the highest level of health and live independently as long as possible while avoiding unnecessary hospitalization.
Home Health , must be ordered and supervised by a doctor by ways of plan of care.
How is Home Care Paid For?
Helping you figure out how to pay for your in-home care services is part of our job. Our insurance specialists verify benefits eligibility for thousands of people, each and every week.
How much will home care cost?
Depending on insurance coverage, when we speak with you, we will be better able to provide you with an hourly rates for our services, or help you find out if the services you need are covered by insurance or other coverage benefits. We have systems in place to contact Medicare, Medicaid, the VA, or your insurance provider(s) on your behalf to find out what your policy or benefits is covered. Our verification team will help you secure authorizations and facilitate required paperwork. You can be rest assured we will help every step of the way.
How do I pay for home care?
Medicare: Medicare is the U.S. government's health insurance program for people 65 and over. Home health care services are 100 percent covered by Medicare when qualifying conditions are met.
Health Insurance: Depending on your policy and coverage, your major medical insurance provider (such as Aetna, Blue Cross Blue Shield, Humana, and others) may pay for some or all of your home care services.
Long-term Care Insurance: If you have long-term care insurance, your policy may cover certain nursing and personal care/assistive care services that are not covered by Medicare or traditional insurance.
Medicaid: Medicaid is a state government program that provides health insurance and medical assistance to people who meet income eligibility requirements. If you have Medicaid, we can help you understand for which services you may be eligible.
Workers' Compensation: If you need home care because of something that happened on the job, your employer's Workers' Compensation benefits may cover some or all of your home care service costs.
Private Pay (Check, Credit Card or Electronic Payments): Usually for Home Services. Give us a call and we can provide the hourly rates for our care services in your area.